Weekend brunch
Saturdays & Sundays 11:30–14:30
CR'Q MADAME  2.790 kr.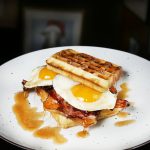 with country ham, Gruyere cheese, béchamel sauce, fried egg,
parma ham and parmesan cheese. 
WAFFLE SANDWICH  2.490 kr.
Belgian waffle, bacon, party ham, 2 fried eggs, maple syrup 
PANCAKES  1.590 kr.
bacon, bananas, maple syrup 
LAMB SHOULDER ON SOUR DOUGH  2.290 kr.
pulled lamb shoulder, 2 fried eggs, grilled sourdough toast, rucola mayo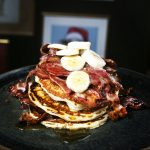 MEGA BRUNCH  2.890 kr. 
bacon, 2 fried eggs, roasted party ham,
breakfast sausages, country ham baby potatoes with dill and chives, baked beans,
Icelandic cheese, cherry tomatoes og sourdough bread 
SWEET 
AMERICAN PANCAKES 1.390 kr.
3 pancakes, syrup, bananas, vanilla "skyr" cream and sweet pecans 
CANDY WAFFLE  1.490 kr.
belgian waffle, vanilla ice cream, Oreos, M&M, chocolate sauce, dulce de leche 
DRINKS 

BLOODY MARY
Reyka vodka, tomato juice, lemon juice, Worcestershire sauce,
Tabasco, sea salt and black pepper.
Glass – 1.790 kr.
Pitcher 1 l – 3.990 kr
MIMOSA
Glass – 1.290 kr.
Pitcher 1 l – 3.490 kr